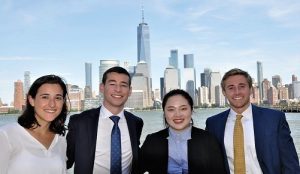 My name is Carol and I am in the Skidmore Class of 2019. Major in Economics and Environmental Science. This summer I have the privilege to intern at WallachBeth Capital in Jersey City.
Some background information about WallachBeth. It is a leading provider of institutional execution services, providing clients with unconflict advice and intelligent trader solution.  Basically, WallachBeth acts as an agent broker, which can also be referred as a middleman, to trade on behalf of clients. WallachBeth values a lot in transparency, anonymity and relationships. It will not release the information of buyers and traders of a trade, so it can have the best market spread and least market impact as possible. Because WallachBeth does not have its own book and provides after trade analysis, it could offer clients with liquidity and transparency. WallachBeth has a wide variety of investment strategies, such as ETF, equity derivative, electronic trading, and options. Besides the sales and trading business, it also expands the investment banking capacities in healthcare and Fintech.
My daily working responsibilities include but are not limited to 1) Research and pitch ETF, Equity Derivative, Global Macro Trend and Option trading strategies to senior managers, synthesizing various sources to deliver content in a succinct, persuasive manner. 2) Shadow the dynamics of investment strategies, trade execution, and formulating portfolio construction through engaging with analysts, traders, and strategists within the ETF, Equity Derivative, Options Markets, Portfolio Management, and Electronic Trading groups. 3) Formulate and analyze the daily morning briefings for WallachBeth traders on global macro, equity, and debt market news. 4)Design an outreach strategy to build a connection with bond issuers, gaining attention for the potential market at WallachBeth.
This internship gives me insight and different opportunities in the finance industry, teaching me hands-on experience on how to pitch investment idea. I first learned about WallchBeth at the Wall Street Panel hosted by the Career Development Center at Skidmore. I am thankful for this amazing event and alumni who are willing to provide resource and information. It is not very easy to get the foot in the door especially when you have not taken any finance related classes and know nobody. But it is definitely possible. Career Development Center has various amazing events and resources that could help students who are interested in the finance industry. Also, these events are great opportunities to get in touch with alumni and learn from their career path. I would say that learn from others' stories and build a good relationship are a key to get the foot in the door.
I am thankful for the support from the Gilbert Family Endowment and Career Development Center. This amazing internship experience and summer in the city would not be possible without them.